Baur&Brown Pick up – pick up system for handpan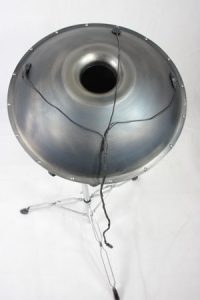 Here we would like to present our latest invention::
A pick up system specially developed to perfectly enhance the magical sound of our handpan.
For a long time we had been experimenting with diverse microphones and pick ups, until we finally found the perfect balance. Our pick up system amplifies the sound cleanly and undistorted. Assembly only takes approximately 20 seconds and works entirely without gluing, drilling or anything else that could possibly damage your handpan and being magnetic, they can be removed at any time. The pick up is provided with a 6,3mm jack socket.
Additionally you will need:
- a standard guitar cable
- an amplifier
- optionally an effects unit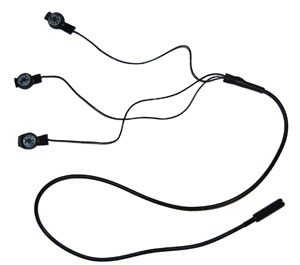 The pick ups cling onto the surface of the handpan without leaving residue. Simply connect it to an amplifier and it's ready to go.
Ideal for playing together with louder instruments.
You can connect your handpan to any possible effects units, e.g. reverb, flanger, distortion or wah-wah.
You can also use a loop station to record your own basic rhythms to improvise on.
Our pick up system offers a handpan a new, broader horizon.
Our guarantee:
Should our pick up system not suit your purpose, you can send it back to us and we will refund you the full price!
- pick up system specially adjusted to the sound of a handpan
- with magnet system attachment
- 3 pick ups installable in 20 seconds without changes to the handpan
- can be connected and removed as many times as you wish
- Plug and Play
- 6,3mm jack socket
- 14-day refund policy
- can be connected to any amplifier
- well combinable with multi-effect units
Price: 119 € incl. shipping

---
Baur&Brown multi-effect pick up system for handpan
We're offering a complete set.
It includes:
- 3 pick ups with our special magnet system for an attachment to any handpan within seconds, readily cabled with a 6,3mm jack socket
– a 1,5m 6,3mm guitar cable
– a 3m jack-XLR cable for the attachment to a mixer
– an XLR-jack-adapter for the direct connection to a guitar amplifier
– a Zoom B1 effects unit with 100 preinstalled effects (delay, octaving, flanger, distortion, etc.)
- built-in loop station making it possible to record short sequences and replay them to improvise on.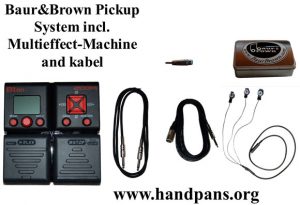 The great thing about the Baur&Brown pick up system is that it is extremely easily and quickly assembled.
The pick ups enhance and modify the wonderful sound of a handpan in a very high quality.
Ideal to amplify a handpan on a large stage without notable feedback.
The included effect unit gives your handpan a whole new sound spectrum and it is incredibly fun to play with.
Jimi Hendrix is alive and he is now playing handpan!
The complete set is shipped with all the neccessary cables to directly connect the handpan and the effects unit to an amplifier, a mixer or a recording device.
Price: 207 € incl. Shipping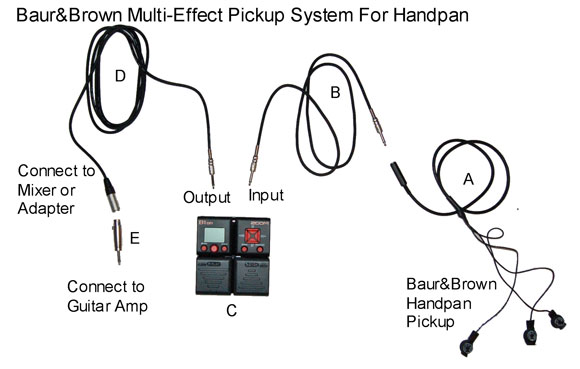 ---
Stands for Handpan
What makes our handpan stand special is that it is actually designed for handpans and therefore your handpan is safe and sound when placed upon it.
Due to its height of 80cm plus the height of the handpan it enables a comfortable playing experience even while standing.
The handpan is simply placed on top and because of the extra thick rubber mounts it rests safely, and the sound quality is not diminished.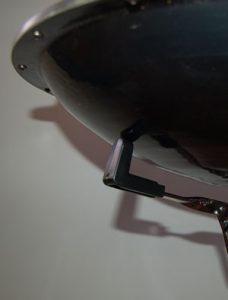 - height 80cm-110cm
- stable and extra wide floor stand with 72cm width
- extra wide carrier 38cm with well padded rubber mounts for safe support of the handpan
- completely collapsable and easy and fast to assemble
Price: 124 €


(free shipping in Germany)
---
Baur&Brown Handpan Soft Case
Here we offer a soft case for our Handpan.
The cases is suitable for a Handpan with a diameter of 54cm.
Height: 24 cm
Weight: 1,36 kg
Padding: ca. 1,5 cm
Price: 89 €


(free shipping in Germany)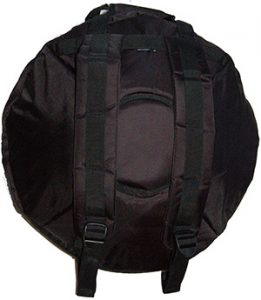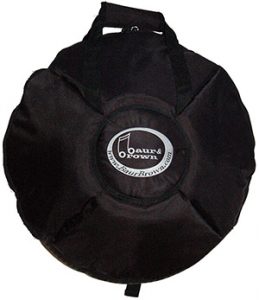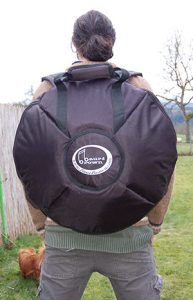 Of course the cases not only fit our Baur&Brown Handpans but also other similar sized handpans, it's best to measure your handpan beforehand. The cases are made of robust nylon and have a 1,5 cm thick padding so that your Handpan is always warm and dry and arrives at its destination with the best tuning.
A convenient backpack carrying system that is adjustable guarantees a good fit on the back with high wearing comfort.
An additional handle is also included.
The cases are water resistant.
Shipping obviously does not include a Handpan 🙂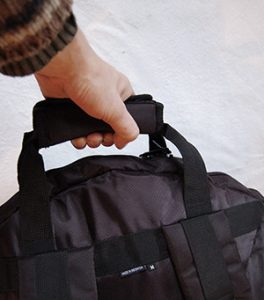 ---
Hardcase/Flightcase for Handpan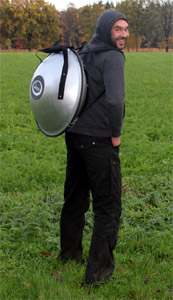 The Handpan-Hardcase by Baur&Brown:
- Material: 2 mm Aluminum
- Weight: 4,492 Gram
- Backpack system: yes
- Hand carrying system: yes
- Airworthy: yes
- Water repellent: yes
- Height: 30 cm
- Internal diameter: 56 cm
- Outer diameter: 62 cm
- Price: 249 €

We are proud to present our Baur&Brown Hardcase:
It has been a long journey perfecting our flight/transport case.
The case is constructed of 2mm aluminium so that you can be sure your Handpan will arrive at its destination safe and in tune.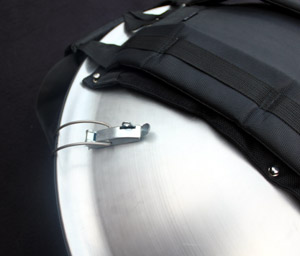 The case is made up of two half-shells, connected together with 4 strong clips and made watertight using a rubber rim system we borrowed from the motor industry. It is easily carried using the integrated backpack system or the handle.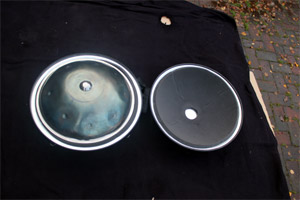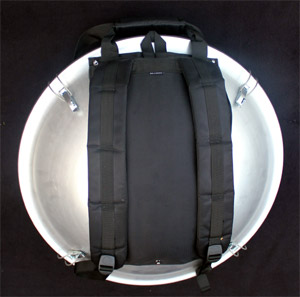 It is easily carried using the integrated backpack system or the handle.
Most Handpan models will fit inside and definately, the Baur&Brown Handpans. The hardcase is padded wih 2 cm thick foam rubber – we can also offer 3 cm foam rubber should your handpan be smaller sized.
---
Handpan Stand (Wood)
Here we can offer you an attractive wooden stand for your handpan.
Perfect for playing seated.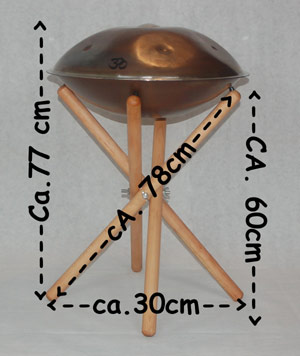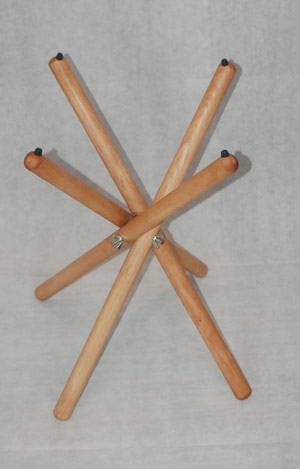 - Material: beech wood treated with linseed oil
- Height when erected: around 60 cm, width around 30 cm
- Length folded: 78 cm
- Weight: 2,5 kg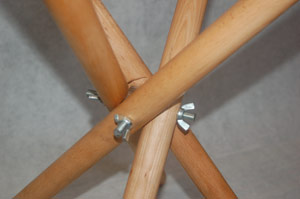 The stands, designed for playing sitting down, are built in our workshop in Germany.
Rubber washers protect the handpan from slipping or scratches.
This offer does not, of course, include the pictured handpan. 🙂
Price: 79 € + Shipping (depends on your country)